Non-Emergency Stretcher Transportation
Serving Raleigh and The Triangle Area
Non-Emergency Stretcher Transportation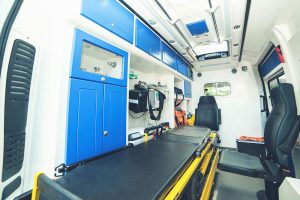 Note: Wisdom Care Transportation's stretcher service is designed for non-emergency situations only. In the event of a medical emergency, please contact the appropriate authorities or dial 911 immediately.
When it comes to non-emergency stretcher transportation in Raleigh and the broader Triangle area, Wisdom Care Transportation stands as a beacon of professionalism and compassion. Understanding the unique needs of clients who are medically unable to sit upright, we've developed specialized services to ensure their comfort, dignity, and safety during transit.
Our non-emergency stretcher transportation is an ideal solution for those who require a supine position during travel. Whether it's the elderly, injured (in non-emergency scenarios), or individuals needing extra care on their way to medical appointments, chemotherapy, or other healthcare needs, our specially equipped vehicles are ready to serve.
Every ride with Wisdom Care Transportation is more than a simple trip; it's a journey crafted with empathy and expertise. Our experienced staff has been trained to handle the particular needs of stretcher transportation with grace and precision. From the moment of pick-up to arrival at the destination, our passengers' well-being is our paramount concern.
With Wisdom Care Transportation, you can expect the following:
Professionalism

: Our team is dedicated to upholding the highest standards of care and maintaining all required certifications and training.

Comfort

: Our vehicles are equipped with state-of-the-art stretchers and amenities to ensure a smooth and relaxing ride.

Accessibility

: We serve Raleigh and the entire Triangle area, making quality stretcher transportation available to those who need it most.

Responsiveness

: Our staff is ready to assist with timely and compassionate service, always considering the unique needs of each client.

If you or a loved one requires non-emergency stretcher transportation, please don't hesitate to reach out to us. You can call us at 919-825-0902 or request more information HERE. Trust in Wisdom Care Transportation, where every journey is handled with understanding and respect and where your comfort is our calling.
Ready to schedule NEMT transportation?
Contact us or BOOK ONLINE NOW