Special Needs Transportation
Serving Raleigh and The Triangle Area
Special Needs Transportation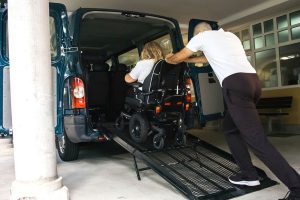 In Raleigh and the surrounding Triangle area, special needs transportation requires a blend of expertise, compassion, and reliability. Wisdom Care Transportation has been a trusted name in this field since 2014, offering specialized transportation services that meet and exceed the expectations of our diverse clientele.
Our team, highly trained and certified for specialized transport, understands the unique requirements of each passenger, whether they need transportation for medical appointments, dialysis, chemotherapy, or simply a ride to and from senior care centers. We approach every trip with kindness and empathy, ensuring that the specific needs of our passengers are met with utmost care.
Wisdom Care Transportation's services extend beyond traditional medical needs. We offer specialized transportation to and from Raleigh-Durham International Airport (RDU) for anyone in an impaired capacity, ensuring ease, convenience, and comfort in all travels.
In addition to serving individual clients, we have also built strong relationships with many corporate clients who visit Raleigh and the surrounding areas for business. Our drivers, trained professionals in punctuality and courteous service provide specialized transportation for corporate clients who visit the Triangle area regularly. From business meetings to corporate events, we guarantee a timely and professional service that reflects the importance of your business engagements.
Whether traveling for business or pleasure, Wisdom Care Transportation is equipped to accommodate the specialized transportation needs of all ages and capacities. From young children to grandparents, our team's wealth of experience, specialized training, and genuine compassion ensures a timely, comfortable, and respectful journey to and from any destination.
If you require our specialized transportation services, simply let us know your flight details or schedule, and we will take care of the rest. With Wisdom Care Transportation, you'll find a dedicated partner who makes every ride a thoughtful and tailored experience.
Choose Wisdom Care Transportation for your special needs transportation, and experience a service that's centered around you. Trust in Wisdom Care, where your needs guide our mission, and your comfort drives our success.
Ready to schedule NEMT transportation?
Contact us or BOOK ONLINE NOW